New Student Send-Offs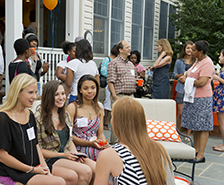 Meet Future Classmates Before You Get to Campus
If you're part of the newest Syracuse University class, it won't be long before you're starting life as a college student. Want to make that leap a little easier? Join us for a New Student Send-Off!
Held during the months of July and August, these fun, informal gatherings introduce you to new friends before you even arrive on campus. You'll get to know other first-year students from the Washington, DC, metro area and meet current students and alumni who can answer your questions, give you the inside scoop on what to expect during your first few weeks at Syracuse, and provide your first dose of Orange spirit. Parents are invited too!
Questions? Call 315.443.3258 or email sendoff@syr.edu.