Interdisciplinary Programs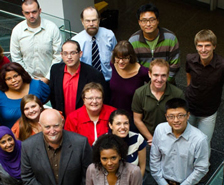 These interdisciplinary programs cut across traditional departments, schools, and colleges to provide a broad analysis and a multidimensional perspective of important issues and topics.
Public Diplomacy Dual Degree Program
Syracuse University views public diplomacy as a new professional field that has evolved far beyond the traditional focus on government-funded and -sponsored cultural and educational exchanges and broadcasts to promote the national interest of a nation state. From our perspective, it includes non-governmental communications that have an impact on government, as well as government communications that affect non-governmental sectors, including the private sector.
Graduates of the dual degree Public Diplomacy program (M.S. in public relations from the S.I. Newhouse School of Public Communications, M.A. in international relations from the Maxwell School of Citizenship and Public Affairs) pursue careers in the Department of State, USAID, the Department of Defense, and other U.S. government agencies, and with non-governmental organizations, advocacy organizations, communications and public relations firms, and the media.
The distinct difference between public diplomacy and propaganda is something Ed Murrow, director of the United States Information Agency (USIA), eloquently spoke to during his May 1963 testimony before a Congressional Committee. "American traditions and the American ethic require us to be truthful, but the most important reason is that truth is the best propaganda and lies are the worst. To be persuasive we must be believable; to be believable we must be credible; to be credible we must be truthful. It is as simple as that."
Learn more about the Public Diplomacy dual degree program
Center of Academic Excellence in Information Assurance
The National Security Agency and the Department of Homeland Security have designated Syracuse University as a National Center of Academic Excellence in Information Assurance/Cyber Defense Education (CAE IA/CD), and also as a CAE-R (Research) institution. Both designations are effective through 2021. These designations provide significant opportunities for students to obtain Department of Defense scholarships and grants in the study areas of information assurance and cyber security.
Faculty and staff from the School of Information Studies, the College of Engineering and Computer Science, the Maxwell School of Citizenship and Public Affairs, the S.I. Newhouse School of Public Communications, and the College of Law have collaborated to promote interdisciplinary education in information assurance.