College of Visual and Performing Arts Programs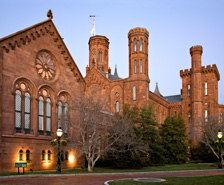 Washington is not only the center of U.S. public policy, but one of the country's leading cultural centers. Students in the College of Visual and Performing Arts have opportunities to explore each of these areas in these intensive programs.
Museum Studies
Core to the Museum Studies experience is the opportunity to study in other U.S. cities through extended programmatic trips and courses in New York City and Washington, D.C.; where you visit significant museums, galleries, and contemporary artist studios to hear from prominent artists, curators, and gallery owners, many of whom are accomplished Syracuse University alumni. Faculty and staff organize field trips to museums and conferences in New York State and throughout the East Coast, as well as bring professionals to campus to work with students. 
Learn more about the Museum Studies Degree Program
Communication and Rhetorical Studies in DC
Politics and rhetoric are inextricably intertwined, each affecting the other, sometimes in symbiotic rhythms and sometimes in independent rhythms that create conflict and stress. In Communication and Rhetorical Studies in DC, an intensive two-week course in Washington, students study this intimate relationship.
Students examine key sites of political messaging, from campaign advertising and lobbying to public diplomacy and policy promotion. After meeting in Syracuse for the first week, the class travels to Washington to meet with experts and determine how current practices reflect and/or complicate the prevailing scholarship.