DC Immersion Week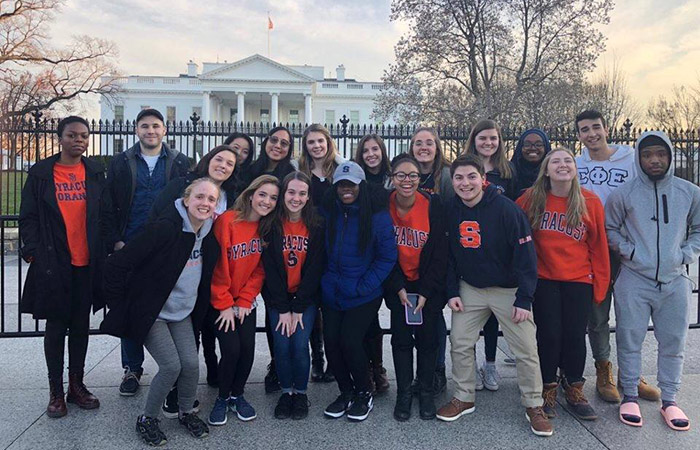 DC Immersion Week—one of the signature programs of SU in DC—is an opportunity for 20 Syracuse University sophomores to experience living and working in Washington and Baltimore.
A collaboration among SU in DC, Syracuse University Career Services, the Office of Alumni Engagement, and local alumni, the program offers behind-the-scenes tours; corporate, government, and nonprofit site visits; and access to key alumni leaders, highlighting the cultural and professional opportunities available in the DC, Maryland, and northern Virginia region.
Since its launch in 2012, alumni involvement in this prestigious program has tripled. Several students have landed summer internships through contacts made during the week, and some have returned to DC for the Washington Semester Program. Others have gained insight and clarity in choosing a major and minor course of study.
DC Immersion Experience 2022
After many years of bringing students to DC and Baltimore for DC Immersion Week, SU in DC brought the immersion experience to Syracuse March 23-25, 2022, with a reimagined on-campus program open to all students, including an in-person career workshop, networking reception, and industry conversations featuring alumni from DC, Maryland, and Virginia representing popular industries in the region. Thank you to the alumni who participated throughout the week and all of our campus partners who were so helpful in making this program a success!
Check out pictures from the experience over on our Facebook page. 
DC Immersion Experience 2023
Bringing the DC Immersion Experience to campus in 2022 created an opportunity for SU in DC to reach over 200 students, ten times the number of students we were able to host previously in DC. We are excited to continue to grow the program in 2023, hosting two additional panel discussions (six in total), as well as information sessions for the Maxwell and Newhouse semester in DC programs. This year's DC Immersion Experience will take place in Syracuse March 22-24, 2023. Stay tuned for more updates!
Learn more about the alumni participating in the program this year through their bios [pdf].