College of Law Programs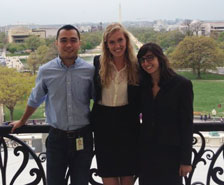 Syracuse University believes that an outstanding legal education is as dynamic as the law itself. The College of Law puts students at the center of an intellectual, professional, personal, and cultural experience that makes them better lawyers and better leaders throughout their lives.
Semester in DC Externship Program
Building on Syracuse Law's tremendous alumni network and commitment to experiential learning, our Semester in Washington, D.C. Program combines professional experience with unique course work to develop an understanding of how lawyers function in our nation's capital. Externship placements allow students to work as part of a legal team in a variety of different environments. In a weekly course, taught by a Syracuse Law faculty member, students will study legal issues specific to Washington, D.C. practice. Students also write a substantive research paper on a topic related to federal regulation or a legislative topic or process. The Syracuse Law Semester in Washington, D.C. Program is offered to qualified second and third year students three times a year - every summer, fall and spring semester. 
Learn more about the Law Externship Programs
Burton Blatt Institute
The Burton Blatt Institute (BBI) at Syracuse University reaches around the globe in its efforts to advance the civic, economic, and social participation of people with disabilities. BBI builds on the legacy of Burton Blatt, former dean of SU's School of Education and a pioneering disability-rights scholar, to better the lives of people with disabilities. BBI has offices in Syracuse, DC, and Atlanta.
An important part of BBI's interdisciplinary approach is educating the next generation of leaders. BBI offers select faculty members an opportunity to be directly involved in policy development, research, and analysis on a range of issues, including education, civil rights, technology, health care, housing, and employment. And more than 100 students have made meaningful contributions to BBI, gaining invaluable experience along the way through internship and research assistant opportunities at its Syracuse and Washington, DC, offices.