Abigail Snelling '19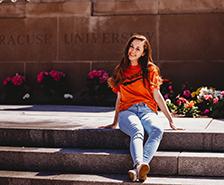 Where are you currently living? Right now I am currently living at home in Rochester, NY, working at a law firm I've worked for since summer of 2016. However, I will be moving to Washington, D.C. in the beginning of August to attend law school!
What are you currently doing with your degree? I recently graduated in May with a degree in Political Science and Policy Studies (and a minor in Economics). With my degree I am planning on continuing my education by studying law at Catholic University of America's Columbus School of Law in pursuit of my J.D.! My plan is to practice human and civil rights law in D.C. after graduating. 
How did participating in Immersion Week impact your career path? Participating in immersion week solidified my interest in law and the timeframe in which I wanted to go to law school as well as introduced me to numerous alumni who helped me through the law school application process and explore potential internship opportunities. It also presented me with interesting occupations I never knew existed and different ways I could utilize my undergrad degree and my future law degree.
Any advice for potential Immersion Week participants/future SU graduates? My advice for future SU and immersion week students is although an occupation or experience may initially seem fruitless toward your goals or far from your interests, it can still be a great learning experience if you keep an open mind! The best learning experiences throughout my time at SU and on the immersion trip we're in situations very different from my career aspirations and interests.