Ashley Burke '14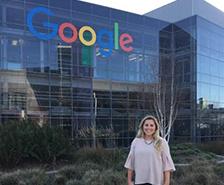 Where are you currently living? New York City

What are you currently doing with your degree? I work in finance at Google! I leverage my problem solving, critical thinking, and communication skills from my Policy Studies & Political Science degree to make sound financial decisions for my company.
How did participating in Immersion Week impact your career path? Immersion Week was the first time I visited a Google campus, I still have the visitor badge! The week allowed me to experience different opportunities in DC that were not only politically focused. After Junior year, I took an internship in DC that allowed me to fully blend my political and business interests. This altered my career path dramatically as now I am solely business focused, and doing something I never could've imagined I would do. And of course, I made great friends on the trip. 

Any advice for potential Immersion Week participants/future SU graduates? 1. Always be open to change. Whether it's new opportunities, ideas, or ways of thinking. Your career and life are fluid. 2. Focus on building skills. When deciding on new roles or projects, focus on what skills you need to grow and how that will lead towards your broader goals. Skills speak for themselves at the end of the day.