Assata Cradle-Morgan '20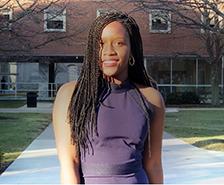 Where are you currently living? I am currently living in New York City. 
What are you planning to do with your degree? I am a Food Studies Major and Policy Studies Major. I am deciding between between being a data analyst or going into consulting.
How did participating in Immersion Week impact your career path? I participated in the D.C Immersion trip over spring break in 2018. Immersion Week taught me that it's ok to be unsure. I compared myself to other students who knew what they wanted to do after college and to students who have already a chosen a career path. Many of the alumni we spoke to told us about how they change their career paths many times or change their major many times before they got to the position they were in. As a result of those conversation, I learned that being unsure allows you to explore many options and helps you figure out what you like and don't like before you settle into a job after graduation. Immersion Week encouraged me to try different fields and allowed me to narrow down my options in what I would like to pursue. 
Any advice for potential Immersion Week participants/future SU students? The one piece of advice I would give to potential Immersion Week participants is to be open minded. Sometimes we get tunnel vision because we think we are 100% sure of what our career path is. Maybe you are correct but you could also be blocking yourself from knowledge or opportunities needed for the future. Be open to learning new things because you never know how it may help you on the path you are on or how it can help you discover a new path. Regardless of your major, make sure to make good connections with all the alumni you meet because you never know how they can help you in the future.