Dante Moss '18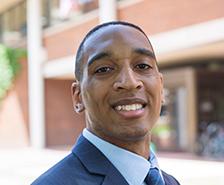 Where are you currently living? I am living in Tampa, Florida.
What are you currently doing with your degree? I am currently working for an Advisor at Northwestern Mutual as the Director of Insurance Operations. My degree in Policy Studies taught me how important it is to have attention to detail and knowing the right questions to ask because in the workplace there will be times that you have to be your own teacher.
How did participating in Immersion Week impact your career path? I still think about my experience during Immersion Week. I saw all the different jobs that are out there, and it expanded my scope of the jobs I can do.
Any advice for potential Immersion Week participants/future SU graduates? My advice for future graduates is to plan early on different opportunities that are available to you while in school and shortly after graduation. Many opportunities are only available to undergraduate students and there are not as many opportunities to explore your interests and gain experiences once you are out of college. Go to the career resource center, speak to advisors and professors about fellowships, summer programs/internships and other opportunities you can plan and apply for now.