Emily Mahana '18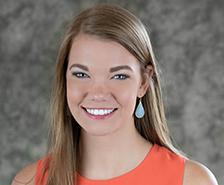 Where are you currently living? I'm currently living and working in Syracuse -- I just couldn't get enough! Born and raised in Syracuse, went to SU for college, and am now working here!
What are you currently doing with your degree? I graduated with my B.S. in Civil Engineering, and am now working for a firm doing bridge and highway design work. I love that each day, I'm helping to better my community one piece of infrasructure at a time. I'm also serving as Miss New York for America and use my background in engineering to advocate and volunteer for my personal community service initiative "Empowering Women in STEM, where I visit schools, libraries and museums introducing fun math and science projects to children of all ages, especially girls and young women.
How did participating in Immersion Week impact your career path? While I'm currently working in Syracuse, I do have plans to eventually move down to the Baltimore/DC area. After visiting, I fell in love with the area and know based on the experience I had during Immersion Week that there are many great opportunities for me to grow in my career when I'm able to make that move! Plus, anywhere I can move with less snow is a definite plus! 
Any advice for potential Immersion Week participants/future SU graduates? I would advise everyone, whether it's during the Immersion Week experience or just having left college a new grad, to take advantage of as many opportunities as you can. You'll never know if that same opportunity will present itself to you again. There are so many amazing experiences you'll be presented with being an SU student/alum, so don't let any of them go to waste!