Janine Bogris '18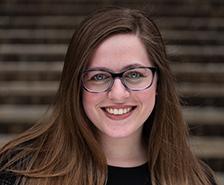 What are you currently doing with your degree? Since graduating in 2018, I have been working at W2O Group, an integrated marketing and communications agency, in NYC happily using my degree among many Syracuse and Newhouse alumni!
How did participating in Immersion Week impact your career path? I loved my experience with Immersion Week my sophomore year, getting to explore a variety of different career paths with Syracuse alumni from a range of schools and colleges. Prior to that, I had only really learned of the possibilities within my major, and it was wonderful to learn about the career trajectories alumni have had.
Any advice for potential Immersion Week participants/future SU graduates? The biggest piece of advice I could give to future Immersion Week participants and Syracuse students is to take alumni up on the offer to stay in touch and talk more in the future!