Krista Maloney '18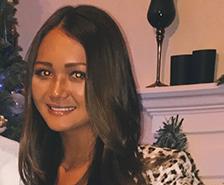 Where are you currently living? I am currently living in NYC.
What are you currently doing with your degree? I graduated with a degree in Public Policy (Maxwell) and Business (Whitman), and currently work for Amazon & shopbop.com as an online retail merchandise planner for contemporary & luxury fashion. 
How did participating in Immersion Week impact your career path? Participating in Immersion Week really helped me with professional development and networking skills. I went on this trip as a sophomore and had no experience with corporate environments at all. As a guest of the businesses & professional groups throughout the week, I was challenged to use professional skills to network with the various SU alumni. Although I was a younger student, I felt comfortable asking questions to the SU alumni, because they were happy to share their experiences with students from their alma mater and all had relatable and nostalgic stories from their time at SU! Post-trip I felt really encouraged to not only work on my professional skills, but seek SU alumni in careers and companies I was interested in pursuing.
Any advice for potential Immersion Week participants/future SU graduates? My advice to potential Immersion week participants/future SU graduates is to keep an open mind about your career! You never know if or when your career path and interests will change, and it is always smart to pay attention and discover different types of businesses and careers out there.