Kyra Meister '19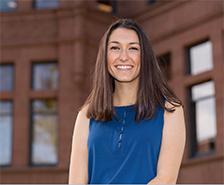 Where are you currently living? I just moved to Arlington, Virginia!
What are you planning to do with your degree? While at Syracuse, I studied Communication & Rhetorical Studies and Policy Studies. Prior to graduation, I accepted a fellowship position at The Atlantic in Washington, DC. As a fellow at AtlanticLIVE, the events branch of The Atlantic, I will be working to recruit audiences to attend our events as well as working on event logistics for some of the approximately 150 events put on by AtlanticLIVE each year. Topics of these events cover a wide range of subjects and I'm excited to begin my career at a company that both shapes global debate and encourages the power of storytelling.
How did participating in Immersion Week impact your career path? It's safe to say Immersion Week not only impacted, but kick-started my career path. I learned about the Atlantic Media fellowship program during Immersion Week from two alums that worked for AtlanticLIVE. I stayed in touch with them and two years later, met up with those same alums to ask questions about not only about the fellowship, but about post-grad life and working in DC in general. Immersion Week taught me that your degree does not define you; the transferable skills you get at Syracuse will take you far, regardless of what you major in.
Any advice for potential Immersion Week participants/future SU students? Don't be afraid to reach out to your network. It can be intimidating to get in touch with the people that had a profound impact on you; however, if there's one thing I've learned, it's that the alumni at Syracuse want to help you - they are in your corner. Had I not stayed in touch with some of the alums I met during Immersion Week, I likely wouldn't have even applied to Atlantic Media's fellowship. But by staying in touch and asking questions, I was given the confidence to take that step and apply. Take advantage of the opportunities and people Immersion Week provides you with - it's as simple as sending an email!