Maddi Durbin '16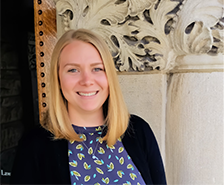 Where are you currently living? I am currently in Charlottesville, Virginia, for a summer internship with a nonprofit organization that does death penalty defense, where I am working as a legal intern. Most of the time, however, I live in New York City where I'm a rising second-year law student. 
What are you currently doing with your degree? Currently, I'm just getting another degree! But I definitely think my international relations degree influenced my decision to attend law school. It was during my internships in the field of international human rights work and my research on water rights that inspired me to pursue a legal career, and I'm still involved in the international human rights field in law school. This year, as a board member of my school's human rights student group, I will be organizing a series of panels on international and domestic human rights issues, and I anticipate that my background in international relations will be useful in planning these events. It will definitely be helpful to have the knowledge I gained through my degree when selecting topics for discussion as well as speakers and organizations to feature.
How did participating in Immersion Week impact your career path? Immersion Week definitely inspired me to pursue as many opportunities in DC as I could - which ultimately led me to where I am now. After Immersion Week, I decided to apply for the Maxwell Semester in Washington program, where I interned with the U.S. Department of State. I also spent a summer in DC interning with Human Rights Watch, and this internship specifically inspired my desire to pursue a legal career after graduating.
Any advice for potential Immersion Week participants/future SU graduates? Consider as many career options as possible, and keep an open mind to the directions your career path takes. When I started college, I thought that I would end up in the foreign service - and now I think I'm going to work in death penalty defense litigation! I never would have thought I'd end up where I am now, but as my education and internships veered me away from where I thought I might go, I followed where my experiences led me and found I was just getting closer to what I was really passionate about doing and where I was meant to be. So don't be afraid of the changes in your interest - they might just be leading you closer to the heart of your real passions!