Simone Girma '19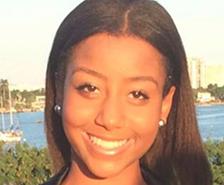 Where are you currently living? I am currently living in LA. 
What are you currently doing with your degree? I am doing a one-year fellowship with the NBCU Page Program. The program is an immersive learning experience; throughout the year,  I shadow and work for 4 departments at NBC. I'm excited to engage with media and storytelling and hone in on my skills and passions. I graduated with a dual degree in Citizenship and Civic Engagement & Television, Radio and Film. It is my goal to bridge both of my degrees to make socially-conscious and engaging media. Eventually, I want to work in either film development or produce documentaries.
How did participating in Immersion Week impact your career path? I am so grateful for the Immersion Week experience because it was the first time I practiced networking. As a sophomore, it forced me to articulate my passions and navigate a professional space. Additionally, The Immersion Week experience was the first time I truly understood the scope of the Orange Network. All the alumni I met were more than willing to connect, mentor, and advise.
Any advice for potential Immersion Week participants/future SU graduates? For any potential Immersion Week student, I'd advise them to really embrace the journey. The experience is really what you make it, so be kind to yourself but, challenge yourself. Speak up, prepare, and if you resonate with a speaker, follow up with them via email.