Vivienne Quow '15, G'16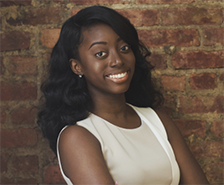 Where are you currently living? West New York, NJ
What are you currently doing with your degree? I am a Brand and Graphic Design Manager at a global software company named AB Tasty in New York City. I handle all of the design elements for the US office, as well as facilitate the branding and look and feel for the company. I handle website edits as well occasionally.
How did participating in Immersion Week impact your career path? Participating in Immersion Week helped me figure out exactly what I was looking for and not looking for from a big city. It also allowed me to solidify that I had chosen the correct major. DC is an awesome city, and I would still love to move and work there some day. 
Any advice for potential Immersion Week participants/future SU graduates? My advice is to really picture yourself in the city, and while on the trip pay attention to transportation, what life would be like there, etc. Getting a great job/internship is awesome, but you want to make sure that the city where you live is awesome as well. Everyone is a resource, so network with everyone, take business cards, and ask questions. A lot of people in DC are transplants as well, and might be able to provide information about what their process was like.