William Fletcher '14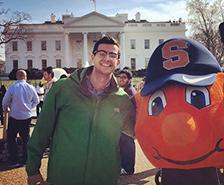 Where are you currently living? I currently live in Arlington, Virginia about 15 minutes outside of DC City Center. 
What are you currently doing with your degree? After graduating from Syracuse I worked as a Litigation Assistant at the Department of Justice in the Criminal Division's Securities and Financial Fraud section. This experience solidified my interest in a legal career, and I went on to graduate from Georgetown University Law Center. After taking the Bar exam this summer, I will join Steptoe and Johnson, an international law firm headquartered in DC, as an Associate Attorney.
How did participating in Immersion Week impact your career path? As a student, I did not appreciate the alumni network until after participating in Immersion Week. The experience demonstrated how the Orange family continues to support one another long after students leave campus. The DC-based alumni that I met during Immersion Week still continue—seven years later—to assist me in attaining my professional and personal goals. And as the first in my family to attend law school, I especially rely on these relationships to help me navigate my legal career path. 
Any advice for potential Immersion Week participants/future SU graduates? A complete Syracuse University education requires more than attending class, taking exams, and collecting a degree. And DC Immersion Week can be a part of that complete education. The week exposes students to the real-world life skills that are necessary to have success after graduation. Most importantly, it exposes students to the people—their future fellow alumni—who can help them achieve that success. Take advantage of every opportunity to form those relationships now, before you even step off campus.