Sarah Bigman '14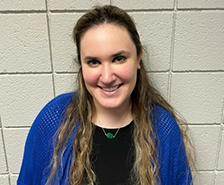 Q: Tell us about your career path and where you are today.
Today I am working as a substance abuse therapist at a local detention facility in Virginia. My career path began at Syracuse as an integrated learning major student of Psychology & Forensic Science. During the summers while at Syracuse, I obtained numerous internships in mental health. I worked at various psychosocial programs, crisis intervention centers and at the American Psychological Association. My goal has always been to work with those who have dual diagnoses of severe mental illness (SMI) and substance abuse (SA). After graduating from Syracuse, I knew I wanted to pursue a graduate degree, but I was not sure which degree I wanted. I worked for another two years at another psychosocial program before going back to school at University of Maryland for Social Work. I wanted to incorporate my forensic degree, so for my two graduate school internships I worked at a local detention facility and at the local circuit court. I learned a lot about how to practice social work & provide therapy within a forensic environment. After graduate school I was able to obtain a position in Virginia at a psychosocial program before I began working in my current position as a substance abuse therapist at the detention center.
Q: How did your SU experience prepare you for your career?
My SU experience allowed me to explore my two main interests at the same time – Psychology and Forensic Science. The reason I chose SU was because of the integrated learning major. It prepared me by teaching me about both realms and culminated in a thesis presentation where I got to look into how I could combine both long-term. It provided me with the basis I needed to secure a job post graduation and prepare for graduate school.
Q: Looking back, what SU experiences have been the most meaningful to you?
Academically, my integrated learning major class senior year was the most meaningful to me. My professor was well known in the forensic world and had a ton of life experience that she applied to helping us work on our thesis presentations. I enjoyed working on my thesis because it really got me thinking about how I can combine both of my interests post-graduation. It also was a wonderful networking opportunity as we presented our thesis in front of a panel of employers in Syracuse who worked in our field.
Socially, Syracuse basketball games were the most meaningful to me! There is no feeling like being in the dome when we win a game! Go Orange!
Q: Why do you feel that it is important to remain connected to the alumni network and the University?
It is important to remain connected to the alumni network and the University because my time at SU was instrumental in preparing me for employment post graduation. Without the support of alumni while I was in school, I would not have known where I should look for internships and what type of jobs people with my interests were able to obtain. Not to mention alumni love hiring other alumni so that network is always helpful if you are interviewing with a fellow SU graduate! My time at SU is a time I look back on fondly and being able to connect with others who feel the same way in your local city is an amazing feeling as well!
Q: What advice would you give students?
Advice I would give to students is to take advantage of all of the networking opportunities SU has to offer. Talk to your professors! Go to their outside of class hours and talk to them about their career paths. Take advantage of the networking opportunities with alumni and don't be afraid to reach out – we all want to hear from current students and help them in their careers! My biggest mistake was not reaching out to my professors until my junior year and realizing they all have really great connections in and around Syracuse and can be a huge help to finding internships and jobs after graduation!