Sarah Meashaw '12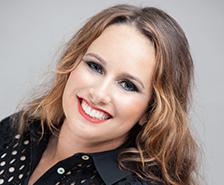 Q: Tell us about your career path and where you are today.
I started out as an event assistant right out of school and then moved to being an event planner! I studied Hospitality & Food Service Management so it was a nice segway! I personally had a hard time committing all the weekend hours to the job and always felt like I was missing out on experiences with friends. When I was getting my headshot done for events at a newborn photographer's studio, I was offered a part time assistant job there to earn some extra income. Four years later, I was nearly full time at the newborn studio and had taken on many more responsibilities to be her Studio Manager. In high school, I was very passionate about photography but decided to go a different route at Syracuse. After finding myself back in photography, I realized I wanted to make that my life again! While babies were cute and fun, my volunteering time had introduced me to the world of pets in DC. I worked with several animal rescues and knew I wanted my own pet photography studio.  Flash forward to now! I own a thriving small business and am supported by an amazing team and family. 
Q: How did your SU experience prepare you for your career?
Syracuse taught me so many valuable things! While you might think that my degree got lost along the way, I actually find it very useful. Not only in my personal life, cooking at home, but also how to best deal with clients. 
Q: Looking back, what SU experiences have been the most meaningful to you?
My most meaningful experience was meeting my advisor Chef Kiernan. I am still in touch with her and I am not sure I would be who I am today without her guidance. She helped steer me and navigate through the many challenging classes in my major, as well as showed me I can do more than I might think! She is the most valuable thing I gained from Syracuse, and I am beyond thankful for that. I am still in touch with her today, and I visit her whenever I am passing through Syracuse to go visit my in-laws in Potsdam. 
Q: Why do you feel that it is important to remain connected to the alumni network and the University?
I feel that it is important to stay connected to SU not only as a basketball fan, but with the alumni network as I was given so much from my experience. I learned so many valuable lessons, as well as found my husband, which was something I never expected! I gained friends, family and so many amazing memories at Syracuse. I am thankful to my sorority, Alpha Phi, for also giving me guidance and friendships that helped shape me today. 
Q: What advice would you give students?
I think you should seek out professors and mentors while at SU. There is always one or two that will really care about your well-being and help you navigate hard challenges which are inevitable in four years of life. Greek life is tons of fun and always gave me a chance for community outreach, which I value, so you should definitely go Greek if you have the chance!