Allie Caren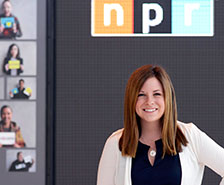 Grad Year: 2014
Major: Newspaper and online journalism
Minor: Psychology
Current Internship: Digital news intern at NPR
How did you find out about your current position?
Networking! I found out about the extensive internship opportunities at NPR from a friend of mine from Newhouse who had the same position (and same desk!) as me last summer. When he described his time here as "incredible"—that's when I knew the company should be on my radar. (Thanks, Tyler!)
How does your position relate to your career goals?
I'm a writer in an ever-changing journalism world. Ideally, I would like to work for an organization that recognizes the importance of multimedia; of marrying different means of communication for the fullest and most-fulfilling version of storytelling to date. NPR is unique because it brings together the radio story and the web story. A story is a story—and the only thing that matters is telling it well. This position is parallel to what I'd like to end up doing permanently, which is writing, editing, and publishing for the web.
What is the best tip you have ever learned about networking?
Through my own experiences—journalism-related and otherwise—I have repeatedly learned the importance of talking: to friends, to acquaintances, to strangers. Your immediate "circles" might not know a "good contact" here, or a "key person to talk to" there; but everyone knows someone and among all of those "someones" might be just the guy or girl you need. Talk to everyone, carry business cards, and never stop marketing yourself. And believe in the "Syracuse Mafia"(AKA, the alumni network). It's real, I promise (though I have yet to find out whether or not membership gets me a free T-shirt).
What are the most important transferable skills you've learned?
Always, always, always say yes, and say it with a smile.
What advice would you give other Syracuse students about interning in DC?
Interning in DC is one of the best opportunities out there for any 20-something. The city is buzzing with millennials and the energy and drive from all of the "young blood" here is palpable—you can feel it. DC has so much to offer: jazz in the park, food markets, festivals, coffee shops galore, and representations of some of the United States' richest history. Also: cupcakes.