Ronald Taylor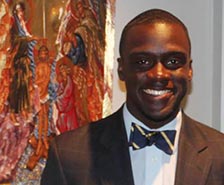 Class Year: 2015
Major: Political science and policy studies
Minor: African American studies
Internship: Intern at DCI Group, scholar for The Institute for Responsible Citizenship
What is your favorite part about living and working in DC?
DC is honestly a city of connections. Who you meet today can help you tomorrow. Having been here for only a month, I feel as though I have built meaningful relationships that will go farther than this summer. That has made all the difference.
How did you find out about your internship? What interested you about the opportunity?
I applied to a summer program for high-achieving African American males called The Institute for Responsible Citizenship. This program places its students at high-powered internships, pairs us with professionals who can help our professional growth, and gives us opportunities to meet notable players in Washington, like Representative John Lewis, to say the least. The Institute placed me at DCI Group to get new perspectives and to challenge me with new forms of public policy.
Describe your internship experience.
In one word, learning. I have learned something new every day at this experience. Some days are long and hard with endless piles of work. But the smile on a supervisor's face or satisfaction from a client makes all the difference.