Tara Schoenborn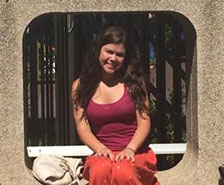 Grad Year: 2014
Major: Public Relations and Political Science
Minor: Spanish
Current Internship: U.S. Department of State, Bureau of Public Affairs, Washington Foreign Press Center
What excites you the most about this opportunity?
The thing that excites me the most about my internship is that it is bringing me one step closer to figuring out who I am and what I want to do as a career. Plus, I have the opportunity to meet new, amazing people every single day and this has not only taught me a lot, but has made it really fun!
How does your position relate to your career goals?
My position at the U.S. Department of State relates to my career goals because I originally thought that I wanted to work in the Foreign Service. Now, I am considering other options and opportunities, but my internship has given me the necessary tools I need to prepare for a career in communications and will hopefully help me in my desire to pursue a graduate degree in international communication.
How did you learn about this opportunity?
I was searching online for internships that involved travel and, not so surprisingly, came across opportunities with the State Department. I applied on a whim, not thinking I would get it, but here I am!
What advice would you give other Syracuse students about interning in DC?
Try everything, both in the office and out of it. Do not be afraid to network, put yourself out there and explore. Sometimes you might make a mistake, but you will gain so much that it will be worth it.
What is your favorite activity to do in the city in your free time?
Everything? Is that an option? No, but in all seriousness, my favorite activity would probably be taking in the scenery at the National Mall, whether just reading a book, going for a run, or grabbing some friends and playing baseball. Plus, you cannot beat seeing the monuments at night.