Maliz Mahop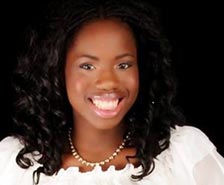 Class Year: 2015
Major: Communications and rhetorical studies
Minors: Public communications and global enterprise technology
Internships: Business development coordinator at I Am - San Antonio (IASA) consulting group, corporate marketing intern at Chapman Cubine Adams + Hussey (CCAH)
What is your favorite part about living and working in DC?
My favorite part about living in DC is the environment! I love being in the nation's capital! Every day walking to work I pass by monumental buildings and I ride the train with policy makers and business leaders. It's honestly just an awesome feeling to know I work and live in an area where the some of the greatest change happens that affects the world! Even if I am just a part of that change, it means so much to me.
How did you find out about your internship? What interested you about the opportunity?
So my story is a little different! I originally came to DC for the CRS in DC program. I knew DC was the city I needed to work in for the summer to build my career, but nothing had really come through the way I had hoped for. I have family that lives in Maryland, so I was blessed to be able to stay with my cousin.
Interesting enough, I found out about my CCAH opportunity from the Success in the City's SU Mentor list. I submitted applications with two companies where SU alums worked and got offered a position with both. I ended up choosing CCAH and another internship opportunity as a business development coordinator for IASA consulting group. I found IASA through my intense online search (with the great help of Nicole Ben, manager of alumni engagement from the Greenberg House)! The president/CEO of IASA interviewed me and we shared the commonality of being from Texas and wanting to branch out and achieve our dreams. She thought I would be a perfect addition to her team, and I have been privileged to be a part of it since.
Both opportunities interested me because I was going to be doing real work and gaining skills that resonated with my passion and goals. Doing research on the companies, I had to make sure their mission aligned with my own and their work aligned with my own personal values, which, fortunately, both did!
Describe your internship experience.
My internship experience has been amazing thus far! I don't feel like an outsider in my work environments. I am a part of the conversations and do work that impacts my companies every day. I don't fetch coffee or make copies all day, every day (which I am not above). I have assignments and accounts that further the development of these companies' brands. At CCAH, I even have my own office (as an intern)! Experience and professional growth, coupled with the expansion in my network…what more can an aspiring professional ask for?
How does your internship relate to your career goals?
My responsibilities as a business development coordinator at IASA are far out of the usual intern role. I have my own accounts, I prospect clients, and I work in an office with professionals who have worked with or for the best-of-the-best brands and people in the nation. The president and CEO, Kendra Hill, not only leads her team, but mentors us as well. Knowing that I want to own my own businesses in the future, it is great to be guided by such an entrepreneurial spirit like Kendra Hill, who genuinely cares about the development of young adults.
As the corporate marketing intern for CCAH, I am fortunate to get to work with senior leaders in the company. I am around professionals who give me great, inspiring insight every day! The tactics of branding is so diverse, so it's great to be in another arena, like website development and blogging, that I haven't done in the past. As I work towards my goal as a corporate communications professional, this vital experience is a perfect fit for me!
What advice would you give other Syracuse students about interning in DC?
Never lose hope and don't get discouraged in your internship search! I got my internships very late in the summer compared to most of my peers, but I didn't give up. Make sure you gain the experiences and career development opportunities you need in order to utilize your network. When your resume can show commitment, leadership ability, and incredible work ethic, it is so much easier for alumni to lend you a helping hand. No one is standing outside a hot dog cart handing out internships; you earn your position. So be great and flourish!