Michael Helfenbein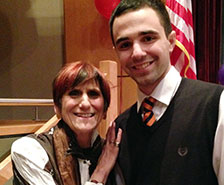 Grad Year: 2016
Major: Public Relations
Minor: Political Science
Current Internship: Congressional intern in Representative Rosa DeLauro's office
What excites you most about this opportunity?
I get to have a real good look behind the scenes in a field of work I may explore after I graduate. I've been keenly interested in politics since my childhood and am therefore extremely grateful for this opportunity to work on the Hill the summer before my junior year of college. Congressional interns play an important role in the functioning of our government's legislative branch. And in between answering phone calls, sorting mail, and the occasional coffee run, you truly do gain a much deeper understanding of how Congress operates and the specialized roles staffers perform that you yourself may one day wish to do.
How does your position relate to your career goals?
One of my most important career goals is to be able to wake up each morning knowing the work I do is helping to improve people's lives. In my view, a career in Congress, even as a press officer, may accomplish just that. Despite the era of Washington gridlock we live in today, what happens in the nation's capital affects the lives of each and every American.
The people rely on Washington for protection and support, and I can help determine policy that determines how these are provided as a congressional staffer. I've seen firsthand in my congresswoman's office how the press secretary promotes agendas in the media and works to sway public opinion in favor of initiatives designed to help our constituents. A job in any form of media relations on Capitol Hill would therefore allow me to fight for legislation to help those in dire need of government assistance.
What is the best tip you have ever learned about networking?
Don't be afraid to strike up conversations with strangers at any type of work-related social event. There are tons of receptions after work hours in the office buildings across Capitol Hill and well beyond. It may be intimidating at first to try talking to someone much older than you about his or her job and your own personal career goals, but many of these people are eager to talk to younger staffers and interns on the Hill about pretty much anything. Building a network of connections is important in any business, but especially in politics. Even as a college student, it's probably not a bad idea for you to have a simple set of business cards made while working on the Hill. At least be sure to keep the contact information of people you have conversations with.
Do you have tips for other prospective interns about living in DC?
There are so many internship opportunities in DC every summer. Outside of Congress, summer interns have options with lobbying groups and other federal entities like the Department of Justice. Take the time to find which one is right for you. Make sure to reserve summer housing here by around mid-April at the latest. You can still find places to stay after that, but many universities like American and GW will see their dorms fill up by this point.
Take advantage of the Metro system, as it's easily navigable and typically the best way to get around without a car. There are so many receptions around town offering free food and drink after work hours, so gather a group of the people you live with or fellow interns and go to as many as possible. Lastly, make sure to sightsee. Besides the memorials and monuments scattered across the National Mall, there are so many museums in DC that contain artifacts and exhibits like none you will see anywhere else.