Seth Gilgus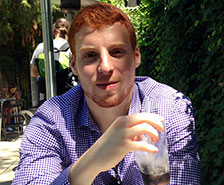 Grad Year: 2016
Major: Political Science (College of Arts & Sciences) and Public Relations (Newhouse School)
Special Program: Honors Program
Current Internship: Policy Intern for B'nai B'rith international
What excites you the most about this opportunity?​
My internship grants me the opportunity to attend events and make professional connections that would have been inaccessible if I was not interning for B'nai B'rith International. Over the several weeks that I have been interning here so far, I have interacted with influential ambassadors, policymakers, and leaders of various NGOs (non-governmental organizations). This internship provides a comfortable yet engaging atmosphere that is helping to further develop my interests in domestic and international policy.
How does your position relate to your career goals?
As for my career goals, I hope to one day earn a governmental affairs position working for an organization that reflects my own political beliefs. My internship at B'nai B'rith International is providing me with invaluable, career-relevant experience, because I have to commit my skills, intelligence, and passion toward advancing the organizations goals.
What advice would you give other Syracuse students about interning in DC?
I come from a town outside of Kansas City, Missouri. In Kansas City, there is no Metro and there are not nearly as many people. I was a little nervous to have to commute everyday to work and to be surrounded by what I considered to be a big city. Once I settled in, I began to realize how easy it is to get around the city. My girlfriend also happens to be interning here in DC at the French Embassy, which helps it seem less scary when going out in the city.
Next, I would tell Syracuse students to not be intimidated by the city or their internship. I encourage students to make connections, whether it be with their coworkers, other students, or anyone else they meet. I also advise students to take advantage of the numerous exciting events (often free!) that take place in DC. Everyone can find something that appeals to their political, cultural, or fun-craving palate. If you didn't grow up in DC, make sure to take advantage of all that it has to offer. No other city offers its inhabitants a similar setting.
What is your favorite activity to do in the city in your free time?
In my free time, I like to try out the amazing restaurants DC has to offer. The Eastern Market is also an excellent spot that has a great outdoor flea market and a farmers' market with great, inexpensive food.