Brian Spendley '09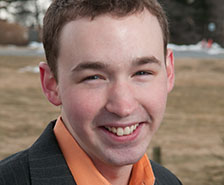 When Brian Spendley (photo by Rachel Fus '08) came to Syracuse as a freshman in 2005, his interests in engineering and medicine led him to major in bioengineering at the College of Engineering and Computer Science. But through a multitude of experiences outside the classroom, he "quickly realized that my passions were wider and deeper than I ever knew prior to college."
Those experiences include public health work in Gambia through Operation Crossroads Africa, experience as an EMT with Syracuse University Ambulance, building houses with Habitat for Humanity, and fighting for equal education opportunities through Teach for America. "My experiences at SU have formed me into the person I am today," he adds.
Syracuse University also played a key role in helping him move into his current position as an associate for Hagerty Consulting Inc. in Washington, D.C.
While in graduate school at the Johns Hopkins Bloomberg School of Public Health, Spendley realized that consulting was the obvious next step. One of his mentors at SU connected him with SU alumnus Steve Hagerty '91, G'93, founder and CEO of Hagerty Consulting, a public sector management consulting firm. "One thing led to another," says Spendley, "and I'm now working with the firm in a role that I can truly say I love."
Currently, Spendley is supporting emergency management projects at the local, state, and federal levels, working with FEMA's Joint Housing Solutions Group, a multi-agency task force that seeks to improve FEMA's disaster housing assistance capacity. It's work that brings together his backgrounds in housing, emergency medicine, public health, and even his work with nonprofits.
"The statement 'I would not be where I am today without Syracuse University' could not be more precise," says Spendley. "And while my relationship with SU has changed since graduation, it has changed for the better, and continued to grow in ways I would have never imagined."
That includes supporting the University with annual gifts. "I believe it's important to give back to the school that gave me so much," he adds. "I also think it's important to support the school so it can continue to grow and continue to create incredible opportunities for SU students. I'm so proud to be a Syracuse University alumnus and to this day, I continue to bleed orange."