Yolanda Arrington '00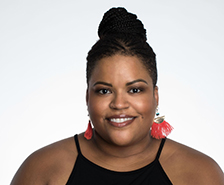 Q: Tell us about your career path and where you are today.
A: After graduating with a degree in Broadcast Journalism, I returned home and spent the summer interning at the House Radio TV Gallery in the U.S. Capitol during the Bush-Gore election. That experience really set me on a great path to what I'm doing now. The internship led to a trip to the Democratic National Convention and, ultimately, a short-term position at ABC in Washington, D.C. From there, I spent five years in local TV in DC, then moved on to a start-up network in Maryland aimed at Baby Boomers and retirees. I went on to do a series of contract and freelance positions, creating videos for clients around the world and working on award shows and big events. I also had a stint working with an online news outlet with a strong focus on social media engagement. Ultimately, I landed with the Department of Defense (DoD) as a contractor, where I am now, working exclusively on social media and blogging. Each job that I've had has blended perfectly into the next opportunity.
Q: How did your SU experience prepare you for your career?
A: I've been blessed to solely work in the industry that I chose when I arrived at Newhouse. I've been able to take what I've learned as a newsroom journalist and video producer and implement those nuggets into telling even shorter stories on social media. Syracuse, and Newhouse especially, prepared me for what I am doing now. Although none of these social platforms existed when I was on campus, the basics I learned about storytelling have never changed. Additionally, Newhouse has the best facilities for students to learn real world skills. I did several internships during my undergraduate years and noticed my fellow interns who attended other schools did not have access to what we had, in terms of software and equipment. That benefit was not lost on me, and I'm grateful to have had that level of access.
Q: Looking back, what SU experiences have been the most meaningful to you?
A: My most meaningful experiences were in the campus organizations I joined. I made lifelong friends, learned a great deal about myself, and discovered my leadership qualities as a member of the Black Communications Society (BCS), the National Association of Negro Business and Professional Women's Clubs (NANBPWC), and Delta Sigma Theta Sorority, Inc. Also, working closely on projects with African American Studies professor, Dr. Janis Mayes, helped me grow as a thinker, writer, and student.
Q: Why do you feel that it is important to remain connected to the alumni network and the University?
A: I'm still very close with my friends from Syracuse. I pretty much communicate with someone from SU daily. Once I make a friend, you're stuck with me! As an Our Time Has Come Scholarship recipient, it's important to me to stay connected to what's happening on campus and keep an ear to the ground about the latest developments – especially for underrepresented students. I stay connected to the campus by attending Coming Back Together weekends, donating to the Office of Program Development, and volunteering for the DC area's legendary "Orange and Blue" barbeque weekend every summer. My Orange family is very important to me!
Q: What advice would you give students?
A: I would tell current students to think beyond "jobs." Of course, you'll need those early jobs to learn the ropes, but can you market that thing you love? Can you make it part of your portfolio? I wish I had been more entrepreneurial-minded while I was on campus. It took a couple of failed government contracts, show cancellations, and a few months of unemployment checks for me to figure out that I should always have something else that I can do. Something that I own! The best way to manage that is to have multiple streams of income. That's what led me down the path of moving from the newsroom and into social media, consulting, and eventually developing an ecommerce store. That would be my advice to students: create your own path as best as you can.