The Hon. Joanne F. Alper '72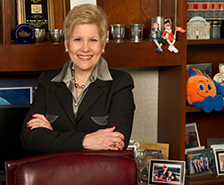 Joanne Alper '72 served as a judge on the Circuit Court for the Seventeenth Circuit of Virginia, which covers Arlington County and the City of Falls Church, from 1998 until her retirement on May 31, 2012. Prior to that, she was chief judge of the Juvenile and Domestic Relations District Court for the Seventeenth Judicial District, on which she served for seven years. Alper earned her J.D. degree with honors from George Washington University Law School in 1975. From then until her elevation to the bench in 1991, she was in the private practice of law with the Arlington law firm of Cohen, Gettings, Alper and Dunham. She currently serves as a mediator/arbitrator with The McCammon Group.
Throughout her career, Alper has been involved in numerous professional organizations and activities. She served as a member of the Virginia Criminal Sentencing Commission, the Education Committee of the Judicial Conference of Virginia, the Virginia Model Jury Instructions Committee, and the Supreme Court of Virginia Historical Commission, as well as a member of the Judicial Council of Virginia, the Commission on Virginia's Judiciary in the 21st Century, the Judges Advisory Committee to the Committee on District Courts, and the Executive Committee of the Virginia Judicial Council for District Courts, and as president of District 4 of the National Association of Women Judges.
Alper is a longtime director and past Chair of the Arlington County Bar Foundation and has served as president of the Arlington County Bar Association, the Virginia Chapter of the American Academy of Matrimonial Lawyers, and the Conference of Local Bar Associations of the Virginia State Bar and as chair of the Family Law Section of the Virginia State Bar. She is a frequent speaker at state and national continuing education programs.
For Syracuse University, Alper just concluded a four year term as a Vice-Chair of the Board, is a member of the Executive, Audit and Facilities Committees, and is chair of the Budget Committee as well as a past chair of the Audit Committee. She helped create the interdisciplinary Institute for the Study of the Judiciary, Politics, and the Media, combining the College of Law, the Maxwell School, and the Newhouse School in a first-of-its-kind program. In 2013 Alper served as Chair of the Syracuse University Chancellor Search Committee. She serves as a member of the Board of Advisors of the Syracuse University College of Law, served as president of the SU Alumni Association from 2005-2006, and is a Benefactor and a Pathfinder. She received the Arents Award in 2012. She and her husband, Paul, endowed the Paul E. and Hon. Joanne F. Alper '72 Chair in Judiciary Studies in the College of Law, and created the Muriel S. Alper Memorial Award for Syracuse students participating in the SU Abroad program. The Alpers are parents of Michael '99 and Brooke '04.