Simon Sjogren '07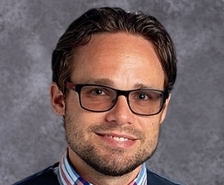 Q: Tell us about your career path and where you are today.
Since graduating from Syracuse in 2007, I went on to obtain my Masters's Degree at Radford University in Education in an effort to begin a career working in a technology support role in schools. With my B.S. in Information Management and Technology from the School of Information Studies at SU, combined with my degree from Radford, I was able to use both of my skill sets to begin a career I am still continuing to this day. I have been working in the private school sector since 2012 and have taken on my current role as Director of Technology at the Millwood School.
Q: How did your SU experience prepare you for your career?
My experience at SU was profound and very impactful on my career choice. Not only did it help create a foundation for my skills in information technology, it also helped me grow as an individual to be better prepared for the workforce after college.
Q: Looking back, what SU experiences have been the most meaningful to you?
My most meaningful experience at SU was my time as a fraternity bother of the Acacia Fraternity, eventually becoming President during my junior year in 2005-06. I also pursued my athletic interest in tennis and helped lead the coed SU Tennis Club. And last but not least is my experience working as an IT support specialist on campus - assisting with student computers and troubleshooting the various problems that arose. It was enjoyable for me and a great experience to take with beyond my years at SU.
Q: Why do you feel that it is important to remain connected to the alumni network and the University?
Syracuse is a community that I feel very connected to. From continuing to support its athletic programs now as an alum to gaining a better perspective of where I came from and who I am today, continuing to be connected to those experiences is very important for me.
Q: What advice would you give students?
The world is a complex place and there is so much to know. Concentrate on your strengths and enjoy what you do. Don't say yes to everything - choose your battles wisely. Most of all, smile and try not to take things too seriously!