Ryan Daughtridge '03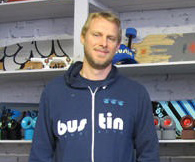 Q: Tell us about your career path and where you are today?
A: I started making skateboards and coined the name of my company, Bustin Boards, while I was in college at Syracuse. I had a full-out workshop in my living room on South Campus (Winding Ridge, woot woot) and would sell mainly on eBay. After college I moved back to NYC to take a job on Wall Street, but I refused to give up my passion for making boards. From my tiny eighth-floor walkup apartment in Greenwich Village, I kept my hobby going before and after work, continuing to sell boards on eBay and also learning how to build a website for the company. Each day I skated about 30 blocks to and from work, which was a daily reinforcement of my passion for turning my hobby of making boards into a full-blown brand. After working that job for a year while building my business plan and company website, I raised about $10,000 and set out to make the business official. For the next six years I spent most of my days building the company and most of my evenings waiting tables. Finally in 2007, when the company reached enough revenue to pay me, I began focusing all of my waking energy on growing the brand and improving our products. From 2008-11 we grew from $350,000 to $4,000,000 in sales and ended up on Inc. Magazine's list of the 500 fastest growing privately held companies. Since then we've been diversifying the brand and our distribution channels. Recently we've partnered with Kevin Plank, founder of Under Armour, and moved our company headquarters back to my home state of Maryland. As we enter this new phase, I'm more excited than ever about the brand and our future.
Q: How did your SU experience prepare you for your career?
A: I studied psychology at Syracuse, which wasn't perhaps the most relevant degree for someone who wanted to start a skateboard company. However, I feel it has equipped me more than anything. I like to say that through my studies of psychology, I learned that the fundamental component of success is learning to believe in yourself. I realized early on that nothing would have more of an impact than my ability to convince myself that this would work. Once I did, I could convince others to help me and customers to believe in what we were doing. Beyond that, I often reference my degree when I'm dealing with complex employee, customer, or investor relationships. Above all else, my four years at the 'Cuse helped me understand the value of seeing things from the perspective of others. That simple skill has helped me so much over the years and continues today.
Q: Looking back, what SU experiences have been the most meaningful to you?
A: I come from Maryland, so the cold weather in upstate New York was definitely a shock. However, when I look back on my time there, the one thing I miss is getting a warm cup of coffee and trekking across the Quad. I loved so many of my classes and remember leaving them with so much mental stimulation. I sometimes tell people that the cold weather up there made me think clearer and I still feel this nostalgia of inspiration when I visit on a freezing cold day.
Q: Why do you feel that it is important to remain connected to the alumni network and the University?
A: It's healthy to have pride in where you came from and understand your roots. I think it's similar to family, you need that support and those connections to help you through life.
Q: What is your fondest memory from your time at SU?
A: I graduated in '03 just as Carmelo Anthony and the team won the national championship. The energy and excitement of that run is hard to beat. But when I think of my time at the 'Cuse, I mostly think about all of the great people who helped me become who I am. My friends, my classmates, my teachers; I have a very long list of SU relationships that I think helped me become who I am.
Q: What advice would you give students?
A: Learn to believe in yourself first, get some wins under your belt first; then go for your biggest dream. Part of success is reaching the point where you wake up every day feeling excited about not just what you're doing that day, but what you're planning for your future.