Michelle Perrin-Steinberg L'05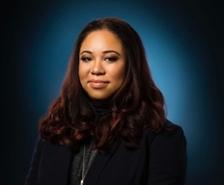 Q: Tell us about your career path and where you are today.
My career path has been a winding road filled with incredible opportunities.  I graduated from Syracuse Law in 2005 and then served as a law clerk to The Honorable Lawrence M. Lawson, Assignment Judge at the Superior Court of New Jersey in Monmouth County. Judge Lawson was a true trailblazer as he was the first African-American Assignment Judge in Monmouth County as well as the first African-American mayor of Neptune. I was honored to have served as one of his law clerks. Being the first in my family to be a lawyer, Judge Lawson was a role model to me in terms of what excellence in the law looked like. 
After my clerkship term ended, I moved back to the Washington DC area, which is home (as an Army Brat, I moved a lot, but consider the DC area home). I worked in government and commercial contracts and then was exposed to international trade, export controls and trade sanctions. I found this area of the law to be quite interesting because it combined my interests in foreign affairs, international and administrative law. I decided to pursue a full-time role in international trade at a large defense contractor. 
The next decade plus would be filled working at the Office of General Counsel and Corporate departments of large aerospace and defense companies, academia, a traditional law firm and as part of the management team of a Big 4 consulting firm which gave me the opportunity to travel the globe from Canada to Thailand in support of clients. I am privileged to have had vast experience, giving me depth and breadth in international trade.
Today, I am a corporate in-house attorney. I am the Lead Senior Legal Counsel at one of the largest global software companies in the world. I focus on regulatory compliance with export controls and trade sanctions and am the primary legal counsel for North and South America. My role as in-house counsel is to inform the business of the law; however, I am also a trusted business advisor and help to manage the legal risks associated with the business, and partner with the business, understanding its issues/pain points and provide practical solutions while influencing key decisions to drive business growth and staying compliant with the law. I work with whip smart colleagues and together, we deliver value to our internal stakeholders as well as our global customers. 
Q: How did your SU experience prepare you for your career?
SU gave me the foundation to think like a lawyer. This meant that I was able to hone my critical thinking skills and refine my verbal and written communication skills. These skills are critical to any lawyer's career.
SU also gave me confidence in knowing that I was prepared to succeed as a lawyer. My professors and fellow law students created an environment that allowed for intellectual curiosity and the discussions we had in the classroom were lively!
At SU, I took on the role of Class Senator in my first year and also served as an editor on two journals; The Labor Lawyer Journal and the Syracuse International Law and Commerce. I was also an active member of the Moot Court Honor Society and participated in trial competitions throughout the year. Participating in these activities further showed me the importance of time management and building and maintaining relationships/developing a professional network.
In my second year of law school, I had the opportunity to work in the Community Development Law Clinic as a Student Attorney. I learned valuable skills related to client service during my time at the clinic that continues to serve me well today.
Q: Looking back, what SU experiences have been the most meaningful to you?
I will always cherish the fact that my Dad was an SU student at the same time as me and graduated the same year as me! When I was a law student, my Dad was a National Security Fellow and he was completing coursework at the Maxwell School to obtain his Masters in Public Administration. I will always remember how my Dad was able to be there for special events such as my first oral argument in my first-year legal writing course. 
I always like to tell the story of how my Dad followed me to SU, but I followed him to the University of Virginia – my Dad graduated from UVA's Commerce School in 1975 and I graduated from UVA's College of Arts & Sciences in 2001. My father and I are very close, and we share an even closer bond having graduated from the same undergraduate and graduate schools. We both have a lot of pride in being alumni from UVA and SU.
Q: Why do you feel that it is important to remain connected to the alumni network and the University?
It is important to me to remain connected to the alumni network and the University because I care about the next generation of lawyers and in particular, the next generation of lawyers of color. We have a shared experience in attending SU and I believe it is important to pay it forward.
I joined the Syracuse University Law Alumni Association (SULAA) Board of Directors in 2018 and am in my second term now. The SULAA Board exists to support students, alumni and SU. I was a founding member of the Inclusion Network, a committee of the SULAA Board, which seeks to support law students of diverse backgrounds. We have hosted fireside chats between students and school administrators; supported bar exam preparation; offered continuing legal education opportunities on topics of interest to underrepresented students and alumni and also offer a mentoring program. I also serve on alumni panels to share my career journey and serve as a volunteer judge in trial competitions.
Q: What advice would you give students?
I like to tell current students that they should study hard and remember why they are at SU; to get an education, earn a degree and set themselves up for a bright future. I also believe that students should enjoy their time at SU by immersing themselves into the full SU student experience. It does not last forever and is important to be present and enjoy the experience.
I also believe that now is the time to explore what you want to do in life.  Take courses that interest you and pursue opportunities to gain practical experience in the area. After you have given something a try and it turns out that it is not something you want to pursue, you have learned that, and you can turn to something else. Don't be afraid to try new things. Keep an open mind and always ask yourself what you want to do in life. Do not let others define what you can do. Dream big and make your dreams come true. You can do it and you have the support of alumni to help you.