Erika Bugaj '98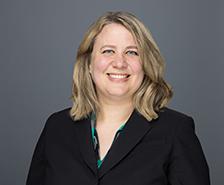 Q: Tell us about your career path and where you are today.
After graduating from Syracuse with a Bachelor of Science in Social Work, I took an alternate path for a few years with Teach For America and taught second grade in DC Public Schools. During that time, I enjoyed instruction with my young students, but I determined that the relationships and social-emotional aspects drew me in the most, and so I returned to social work. I pursued my Master of Social Work at The Catholic University of America. Since earning that degree, I've worked with survivors of interpersonal trauma, homeless families with young children, and families receiving care on the inpatient pediatric units of a teaching hospital, and have transitioned into full-time private psychotherapy practice. 
Q: How did your SU experience prepare you for your career?
My SU experience offered a strong generalist approach to social work and plenty of hands-on learning in my bachelors levels field placement. That was a great introduction to social work. 
Q: Looking back, what SU experiences have been the most meaningful to you?
Having the opportunity to work in residence life as a Resident Advisor, my social work field placement at The Salvation Army, and the friendships I made while at SU were all formative experiences for me. 
Q: Why do you feel that it is important to remain connected to the alumni network and the University?
I enjoy the opportunity to network and connect with others who share the SU chapter in their lives. 
Q: What advice would you give students?
Take charge of your education, build relationships with your professors, and ask questions, find mentors in the field you want to pursue, and don't be afraid to reach out and ask alumni for guidance with your career!