Paul Greenberg '65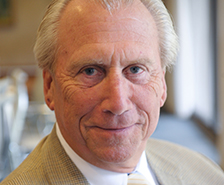 Paul Greenberg '65 has a passion for Syracuse University and for getting the University's message heard in the Washington, D.C., and surrounding areas. To further this effort, he funded the annual Greenberg Speaker Series, which promotes the University's areas of excellence through signature events in Washington, D.C. The events, which began in 2011, ensure that the University makes valuable contributions to important dialogues on pertinent issues of the day.
Greenberg has had a longstanding relationship with Syracuse University. A Life Trustee of the University, he is a former member of the Maxwell School Advisory Board and helped build support for the purchase of Greenberg House, the University's academic, alumni, and recruitment center in Washington, D.C., named in his honor. He also supports the Maxwell School and Syracuse University Athletics, and has hosted University events in the Naples, Florida, community.
President of Greenberg Realty Company, he has been involved with the development and construction of properties in Virginia, Maryland, Washington, D.C., and North Carolina since he founded the company shortly after graduating from Syracuse. He is also the former chairman/president of Beamhit LLC, a Maryland company involved in the high-tech training of military and law enforcement personnel. Greenberg and three others founded Beamhit in 1997 as a manufacturer of target shooting equipment. The company was purchased by L-3 Communications Holdings Inc. in 2004.
Greenberg's civic endeavors include involvement with various Capital-region philanthropies and educational institutions through his family foundations, the Harold & Sylvia Greenberg Foundation Inc. and the Abraham S. & Minnie Kay Foundation Inc.