Chineze Nwagbo '05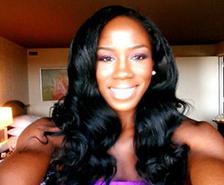 Q: Tell us about your career path and where you are today.
After graduating from Syracuse University, I pursued a career in sports. As a professional basketball player and sports diplomat, I have had the distinct pleasure of traveling across the globe, discovering new cultures, and connecting with people from all walks of life, from sultans, chargé d' affaires, and sports federation presidents to the most incredible kids you will ever meet. I have fiercely debated needed policy changes, shared stories, and enjoyed heartfelt laughs in 20 different countries across five continents. These experiences have shaped my worldview and provided me with countless anecdotes and rich cultural lessons. They have also given me insights into unique policy challenges countries at various stages of economic development face.
My experiences in the local, government, and nonprofit sector have not only grown my love for sports, but have exposed my vehement passion to use the transformative power of sports to create a more peaceful and equitable society. I currently work with a nonprofit organization called PeacePlayers International which is geared toward using the power of sport to unite, educate and inspire young people to create a more peaceful world. We offer sport programming, peace education, and leadership development to those living in communities in conflict.
Q: How did your SU experience prepare you for your career?
Although attending Syracuse was an absolute dream, my experience was very bittersweet. My time there became extremely tough when my Dad died from cancer my sophomore year, which was probably one of the most difficult and painful things I've endured in my entire life. From that experience and many others, I developed a resilient and indomitable will to succeed. Syracuse provided a platform for me to see my life and the world through a completely different lens, a lens that has shaped and help navigate the trajectory of the phenomenal life I live today.
Q: Looking back, what SU experiences have been the most meaningful to you?
The most meaningful and most valued experiences at Syracuse were those that involved meeting new people from around the world, developing dynamic and amazing friendships, overcoming hardships, pushing far beyond my comfort zone to discover my true strengths, and advocating for my voice to be heard. While at SU, I was also honored to be nominated in 2005 for the Soladay Award, the most prestigious award given to a student-athlete by the Department of Athletics.
(The Soladay Award is presented annually to one male and one female senior student-athlete for outstanding academic and athletic accomplishments, University/community service and leadership, and is named for the late Doris Soladay, who served as SU's Director of Women's Athletics from 1975 to 1982 and then as Associate Director of Athletics from 1982-95.)
Q: Why do you feel that it is important to remain connected to the alumni network and the University?
It's imperative to pay everything that was afforded to me forward. I enjoy sharing my story and arming my listeners with the tools needed to help them walk valiantly, head-high, into their greatness. Being part of the alumni network also provides space and opportunity to give back to the undergraduates. Most importantly, I love connecting with my peers who live across the world to exchange ideas, perspectives, and see how I can add value to their lives and vice versa.
Q: What advice would you give students?
I devised a list of five life principles which have changed the scope of my entire life and have helped me make the right choices when faced with the adversity. These have been imparted on me throughout my life journey, from high school to Syracuse to professional basketball to now, and I share them in hopes that someone will find them useful as they embark on their own path.
Dream and have a focus so indomitable that nothing or no one can stand in the way of fulfilling that dream!
"Don't measure your progress using someone else's ruler." If you make this a life doctrine you will shine phenomenally brighter than you ever have in your entire life, at your own time, which will be the right time, because it will be on time!
"Kindness is a language which the deaf can hear and the blind can see." BE KIND!
"A friend is someone who makes it easy to believe in yourself." Surround yourself with amazing people who push you to be better, hold you accountable, and believe in you!
"Everybody has a calling. And, your real job in life is to figure out as soon as possible what that is, who you were meant to be, and begin to honor that in the best way possible for yourself". Find what speaks to your soul and what serves something greater than your own existence, and do those things fearlessly!