Pam Fessler G'80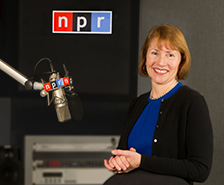 As a correspondent for the National Desk of National Public Radio (NPR), Pam Fessler covers poverty and philanthropy, with her most recent stories focusing on hunger, homelessness, and the impact of the recession on the nation's less fortunate, and how nonprofit groups are trying to address these issues.
Fessler has also covered such topics as homeland security, the government's response to Hurricane Katrina, the 9/11 Commission investigation, Social Security, and election reform. She served as one of NPR's White House correspondents during the Clinton and Bush administrations, and was NPR's chief election editor in 1996, coordinating all network coverage of the presidential, congressional, and state elections.
Before coming to NPR in 1993, Fessler was a senior writer at Congressional Quarterly magazine, working for 13 years as a reporter and editor covering tax, budget, and other news. She also worked as a budget specialist at the U.S. Office of Management and Budget during the Carter administration, and was a reporter for The Record newspaper in Hackensack, New Jersey.
Fessler earned a master's degree in public administration from the Maxwell School of Citizenship and Public Affairs and a bachelor's degree from Douglass College in New Jersey. She lives in Maryland with her husband and two sons.