Samuel V. Goekjian '52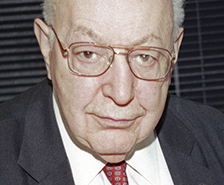 Samuel V. Goekjian '52 is chair and CEO of Intracon Associates LLC, an international business consulting firm in Washington, DC. He is also managing partner of the Washington law firm of Kile Goekjian Reed & McManus PLLC.
Before joining Intracon in 1995, Goekjian served for nearly 10 years as chair and CEO of Consolidated Westway Group Inc., the holding company for the U.S. subsidiaries of Sucres et Denrees, an international trading and agro-industrial group. After two years in the U.S. Army, Goekjian obtained his law degree from Harvard Law School in 1957. He began a 24-year association with Surrey and Morse, a Washington law firm, in 1960, and over subsequent years he served as its managing partner and head of its finance committee, head of its Beirut and Paris offices, and of its international arbitration department. The author of papers on international law and finance, Goekjian has served as a professorial lecturer at the George Washington University Graduate School of Public Law and as adjunct professor of law for the International Law Institute and Georgetown University Law School.
Goekjian's civic and professional interests include service as a senior consultant to various agencies of the United Nations, as a member of the Council on Foreign Relations, and as a Commissioner of the Advisory Neighborhood Commission of District of Columbia Ward 2.
For Syracuse University, Goekjian serves on the Academic and Student Affairs Committees of the Board of Trustees as a Life Participant. He is a member of the Maxwell School and SU in DC Advisory Boards and taught a course on international economic development at Maxwell as an adjunct professor of international relations from 1998 to 2003. In 1995, he established the Samuel V. Goekjian Endowment for the Global Affairs Institute at Maxwell and has subsequently made sizeable gifts to other Maxwell programs. He is the father of Kenneth, Christopher, Peter, and Lisa, and has six grandchildren.