David B. Falk '72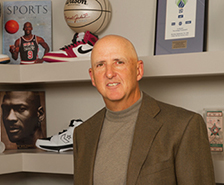 David B. Falk '72, long recognized as one of the sports industry's leading figures, has represented many of the top players in the history of the National Basketball Association (NBA) and negotiated record-breaking contracts for his clients. Over the past 40 years, Falk's vision and innovative approach helped to shape the evolution of the business of sports.
Falk's career began with ProServ in 1974, representing professional athletes and rising to vice chairman. He subsequently formed Falk Associates Management Enterprises (FAME) in 1992 to provide specialized representation service to an elite clientele of NBA superstars. Among his accomplishments, Falk negotiated the highest contract in NBA league history for Patrick Ewing of the New York Knicks, team sports' first $100 million contract in 1996 for Alonzo Mourning, and Michael Jordan's ground-breaking deal with Nike, in the process coining the phrase "Air Jordan." Falk's career also includes serving as executive producer of several films, including Space Jam and On Hallowed Ground. In 1998, Falk sold FAME to SFX Entertainment, serving on the company's Board of Directors and in the office of chairman. In January 2007, Falk re- launched FAME and now serves as CEO.
Additionally, Falk is an angel investor in Pokeware, an internet advertising company, and is a founding investor in Marquis Jet, a private aviation company, and Tour GCX Partners. He guest lectures at universities around the country and serves on the Board of Advisors at George Washington University Law School. Falk has also served as chairman of the annual Sports-a-Thon to benefit the Leukemia Society of America and currently sits on the Board of Directors of the Congressional Award Foundation.
In April 2008, Falk and his wife, Rhonda S. Falk '74, established the David B. Falk Center for Sport Management through a $5 million gift to the University. In March 2011, in honor of the Falks' generosity and support through a $15 million gift to the University, the College of Human Ecology was renamed the David B. Falk College of Sport and Human Dynamics.
For Syracuse University, Falk serves on the Board of Trustees Advancement and External Affairs and Student Affairs committees. He and his wife live in Rockville, Maryland, and are parents of two daughters, Daina and Jocelyn '10.