Helen Zughaib '81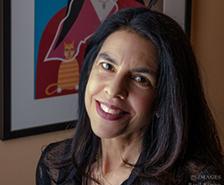 Q: Tell us about your career path and where you are today.
A: After graduating from VPA at SU, I went on to be senior designer for Syracuse China Corporation for 4 years. After that, I moved to Washington, DC, freelanced for Stark Carpet at the Design Center. Then I decided it was time for me to be an independent artist and go it alone! I began exhibiting my work in local galleries here in DC. One thing led to another, the doors kept opening and I kept walking through them! Currently, and for over 25 years, I exhibit and sell my work in many places. I have also been invited as a Cultural Envoy, with the State Department, going abroad to the Middle East and Europe, sharing my work in exhibitions, talks and workshops.
Q: How did your SU experience prepare you for your career?
A: I learned how to use the kind of paint I am STILL using today in most of my work. I am so grateful for the introduction to that, specifically in my painting class! I also felt the professional practices course was very helpful in getting us ready for the work world upon graduating.
Q: Looking back, what SU experiences have been the most meaningful to you?
A: I felt my program of study abroad with DIPA was very meaningful. I studied in London with several fellow classmates from VPA and was given the chance to study at Northeast London Polytechnic, which brought me into classes with British students and professors. It was a great learning experience and a confidence-building semester.
Q: Why do you feel that it is important to remain connected to the alumni network and the University?
A: I think remaining connected to friends, professors and the wider SU community gives me that foundation to lean on, a shared experience and possibilities of new opportunities both socially and professionally. Washington, DC, is a fast-paced town, with constant change, and it is nice to know the Greenberg House is here and the door is always open!
Q: What advice would you give students?
A: Advice I would give is pursue your dreams. If you are passionate about what you want to do, work hard and have a story to share, keep at it. People want to hear what you have to say. It sounds easy and a bit trite, but it really involves lots of hard work, suffering some setbacks, but knowing another door will surely open and it is up to you to take a chance and walk through it. Do not give up, and keep an open mind. You never know that the person you are talking to, or the event you are going to, might lead to a new opportunity for you and your career. Follow the path and most of the time it is not a straight line, if you keep yourself open to new people, ideas and experiences, you and your career will be enhanced.
Photo courtesy of Basil Kiwan.