Mark A. Pryor '90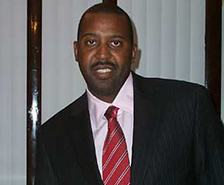 Q: Tell us about your career path and where you are today.
A: I was fortunate enough to attract the attention of the Syracuse University track and field and cross country staff during my senior year of high school in New York City even though I had only run one year of cross country and track, and I chose Syracuse without a visit. After college, I pursued a career in professional track and field, chasing the ultimate goal of being an Olympian. I also worked a few years in corporate fundraising and private-sector healthcare management before deciding to become a sports agent. At an important junction in my professional career, I took my 401k and stock options and started my own athletic management company, World Express Management, focusing on track and field, European and domestic basketball and event management.
World Express Management specializes in marketing and career management and has helped many post-collegiate athletes pursue careers in professional athletics since 1998. Our international client list includes an Olympic gold medalist, World Championship medalists, national champions and several event record holders, as well as a list of European basketball players in at least ten countries. It has been a rewarding career helping young adults pursue and achieve their own life goals, and my business has enabled me to travel across the globe, allowing me to make friends and establish a vast network of business relationships around the world.
Q: How did your SU experience prepare you for your career?
A: Being a student-athlete at Syracuse gave me first-hand experience and insight into the life of college athletes and the intricacies of Division I collegiate sports. At SU, I was surrounded by, and became lifelong friends with, fellow Orange greats Derrick Coleman, Rob Moore, Keith Owens, Qadry Ishmael, Billy Owens, Marvin Graves, Vera Jones, Duane Kinnon and a host of others. My four years as a Division I athlete and those relationships helped to form my business practice centered around giving clients individual attention and tailored career strategies. Too many times, professional athletes are treated like commodities and their backgrounds ignored because of their athletic talent and are valued only for how they perform on the field. Helping athletes maneuver through the business aspects of sports became my way of helping improve their lives, so they could accomplish their goals.
Q: Looking back, what SU experiences have been the most meaningful to you?
A: At Syracuse, our athletic teams became families supporting each other no matter the sport. That support extended past the victories and included dealing with injuries, family visits, academic rigors and more. My time at SU also exposed me to social issues up close that gave me a better perspective on the communities we live in. My eyes were wide open to all aspects of life besides just sports, including politics, religion, race, gender, family values and socio-economic issues.
One of my lifelong friends is a former SU teammate, Vincent Lofreddo, whose family lived in Syracuse. Being accepted by the Loffredos showed me the true meaning of a loving family. I still consider Mrs. Millie Loffredo my mom who cared for me while in college. I will never forget the warm feeling of their home and the love they showed me. 
Q: Why do you feel that it is important to remain connected to the alumni network and the University?
A: Showing pride in being an SU alumnus is important to me because it illustrates how valuable my college education and experience was, and is, in my life. My time at SU helped me to figure out a career path, gave me invaluable experiences and lifelong friends who are now family. Without the victories, struggles, defeats and lessons learned, I'm not sure I would have achieved any of the things I am most proud of today, like being a father, husband, mentor, loyal friend and a business owner.
Q: What advice would you give students?
A: Students should enjoy all that Syracuse and the surrounding communities have to offer. While they are in college to learn, they should also explore outside of campus. That exploration can be the key to exposing students to a different way of thinking, people of different cultures and ways of life.