Megan Stull '00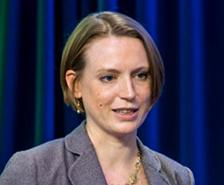 Q: Tell us about your career path and where you are today.
A: I serve as Counsel on Google's Communications Law team, where I offer counsel on legal issues concerning consumer electronics, accessibility for individuals with disabilities, use and availability of spectrum resources, and video. Before joining Google, I was an associate in the Communications & Media Practice at Willkie Farr & Gallagher LLP. After graduating from Syracuse, I attended The Catholic University of America's Columbus School of Law, where I leveraged the knowledge that I gained as a student at Newhouse to earn a Certificate in Communications Law Studies.
Q: How did your SU experience prepare you for your career?
A: Syracuse University opened my eyes to diversity of people, diversity of thought, and a wealth of career opportunities. At the S.I. Newhouse School of Public Communications, I gained an understanding of how the media works and the role that law and policy take in shaping the industry. The classes in the College of Arts & Sciences honed my research and writing skills, allowed me to encounter new ideas, theories, and philosophies, and helped me to tackle questions and problems constructively and methodically.
Q: Looking back, what SU experiences have been the most meaningful to you?
A: My experiences at Syracuse taught me so much about not only who I am, but who I want to be. Classes and compelling speakers taught me about my desire to remain intellectually curious. I have sought out spaces, both in which to work and to reside, that boast a vibrant and diverse community like what I experienced at Syracuse. I want to make space for joy and fun, like I did when I attended sporting events at the Dome or hung out with friends on campus. And, I want to feel a connection to the community, like I did whenever I volunteered in places like a Syracuse elementary school.
Q: Why do you feel that it is important to remain connected to the alumni network and the University?
A: The value of our degrees from Syracuse University come not only from what we do with them as individuals, but also in how others who studied at Syracuse capitalized on what they learned. When I think back on how I chose Syracuse, I think of the location, campus, and programs -- and of the alumni I learned about who inspired me. All alumni are part of the Syracuse narrative. Not only do I benefit personally from being involved with the University by meeting great people and having chances to go to wonderful programs, but I have a chance to help other students, potential students, and alumni cement our places in Syracuse's legacy.
Q: What advice would you give students?
A: Identify your passions.  What are you good at? What are you interested in? I noticed my interest in communications law during my freshman year at Syracuse.  I read all of the FCC-related articles in my trade press assignments first. I thought, "If I am this interested in this stuff, maybe I should check it out for myself."
Then, try it out. The summer of my sophomore year, I landed an internship at the FCC in the Office of Public Affairs.  I loved it. I felt like the agency's work was really important. Although I liked the public relations angle, I really wanted to be one of the policy makers or influencers.  By doing more than reading about a topic -- by actually trying it out and living it -- I started to carve my path.
Finally, talk to people "living the dream." During and after college, I used every opportunity to talk to communications lawyers about how they made it to where they were.  Hearing about peoples' experiences helped me to choose the right law school for me and to think through how I wanted to approach my career.  Plus, it's a great way to begin to form your network.